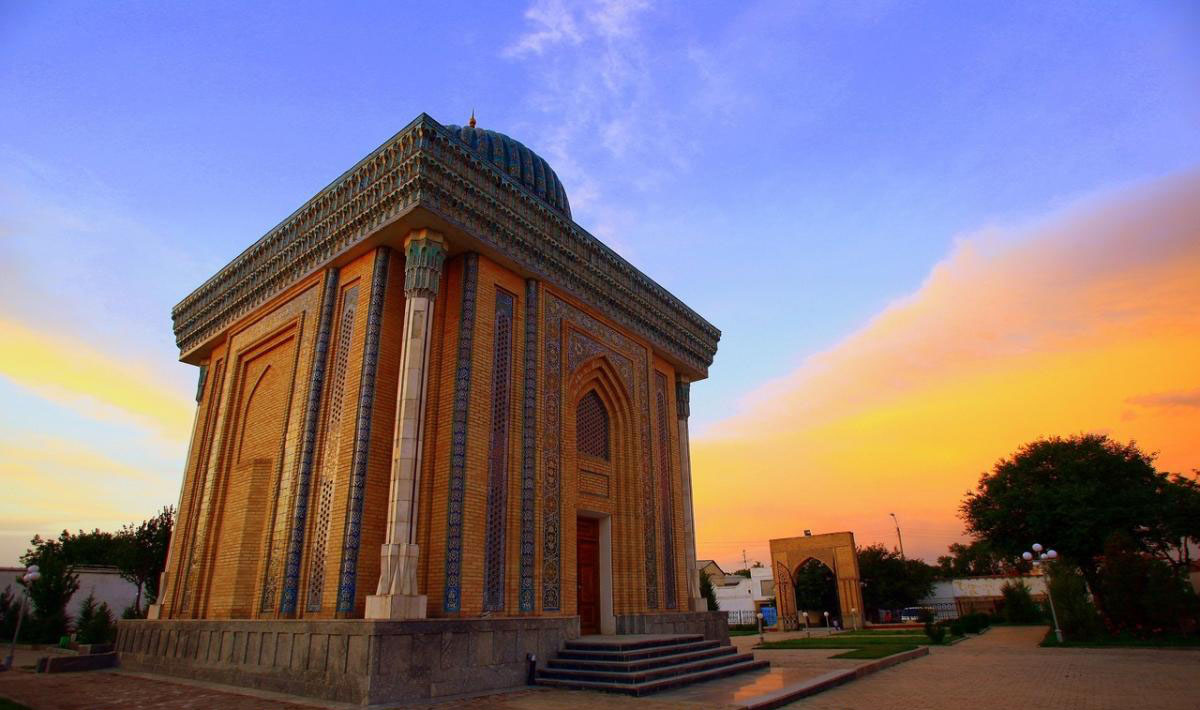 Route: Uzbekistan – Turkmenistan – Uzbekistan – Tajikistan – Kyrgyzstan - Kazakhstan
Season: 2021-2022
Duration: 24 days/ 23 nights
Day 1. TASHKENT
Arrival to Islam Karimov International Airport. Meet a guide.Transfer to a hotel for check-in.Have a rest on this day.
Overnight in Ramada 4* or similar
DAY 2. TASHKENT.
Breakfast at the hotel. Tashkent sightseeing and places to visit: Khast- Imam Complex, Chorsu Bazaar,,Medrese Kukeldash,Tashkent metro,Amir Temur Square,,Tashkent Broadway,,Independence Square
Overnight in Ramada 4*or similar
DAY 3. TASHKENT - NUKUS - MUYNAK-NUKUS.
Breakfast (boxes). 05:00 Transfer to the local airport.07:00 Departure to Nukus. 08:45 Arrival.Transfer to Muynak (~199 km, ~3 hours, 15 minutes). On the way stop at a local restaurant for lunch.Sightseeing in Muynak:"Cemetery of ships" - the former port with abandoned ships in the sand. History Museum (if open) Transfer back to Nukus. Overnight in a hotel
DAY 4. NUKUS - KHIVA.
Breakfast. Sightseeing in Nukus: Nukus Museum of Art. Transfer to Khiva (~398 km, ~6 hours, 54 minutes). On the way stop to visit the "Shylpyk" tower - once a Zoroastrian "tower of silence" and ruins of some desert fortresses (if time allows). Continue driving to Khiva.Overnight in Asia Khiva 4* or similar
DAY 5. KHIVA.
Breakfast at the hotel. Sightseeing in Khiva includes:Kunya-Ark Fortress,Kalta-minor Minaret,,Mausoleum of Pakhlavan Makhmud,,Juma Mosque, Ismoil Khodja Complex,Tash- Khovli Palace, Overnight in Asia Khiva 4* or similar
DAY 6. KHIVA-DASHOGUZ- KUNYA URGENCH-DASHOGUZ.
Breakfast at the hotel. Drive to Dashoguz border. Day trip to Kunya Urgench (UNESCO): Arslan and Tekesh mausolems (12th c.), Turabek – Khanum mausoleum (14th c. mausoleum of Sufi Dynasty), Kutlug Timur minaret, Mamun II minaret, Sultan Ali mausoleum, Ibn Khadgib mausoleum (14th c.), Nadjmetdin al Kubra Khanaka. Drive back to Dashoguz.
Overnight in Hotel Dashoguz 5*
DAY 7. DASHOGUZ– ASHGABAT
Morning transfer to the airport to board the flight to Ashgabat. Flight time: 50 minutes per flight. Arrival to Ashgabat. City tour in Ashgabat: Nisa, Ruhy Mosque, National museum,,Monuments of Archabil Shayoly,,Health Path of Turkmenbashy,,Monument of Constitution,,The tallest building in Turkmenistan (600 feet),"Alem" Culture and Recreation Center,Park dedicated to Turkmen horses-the pride of the Turkmen,Gulistan Bazar,Monument for the Victims of the Earthquake of 1948,Monument of Lenin, Ertogrul Gazy Mosque Lunch
Arch of Neutrality, Saparmyrat Nyyazow (Turkmenbashi), the Park of Independence, Monuments of Independency, Ruhnama Dinner
Overnight in Hotel Akaltyn 4* or similar
DAY 8. ASHGABAT – MARY - MERV - MARY
Transfer to the local airport. Flight to Mary from Ashgabat. Flight time: 40 minutes per flight. Morning transfer to the airport for the flight to Mary. Day trip to Merv: Sultan Sanjar Mausoleum, Large and Small Gyz Gala, Erk Kala, Gyaur Gala,"Kesk" fortresses
Overnight in Hotel Mary 5*
DAY 9. MARY – FARAB - BUKHARA
Morning transfer to Turkmenabad. Lunch on the way.Transfer to Turkmen-Uzbek border. Border formalities. Cross 1,5 km neutral zone (transportation may not be available.You might have to cross it on foot).Enter Uzbek side. Border formalities. Meet a guide once you've crossed Farab border. Continue driving to Bukhara.Transfer to a hotel.Check-in. Dinner.
Overnight in Omar Khayyam 4*/Lyabi house 3* or similar.
DAY 10. BUKHARA
Breakfast at the hotel. Today we explore the old quarter on foot. We will visit bustling "trade domes," active mosques, and the Kalyan Minaret ("big tower"), one of Central Asia's tallest. We'll stroll around the streets and visit the old town. We also visit The Ark, a large fortress with the Emir's open-air throne room and the Mausoleum of Ismail Samani, an intricate and beautiful 10th century brick structure that is nicely preserved. We will also visit the local market to interact with local people. Dinner at a local restaurant.
Overnight in Diyora 4*/Malika classic 3* or similar.
DAY 11. BUKHARA - GIJDUVAN - SAMARKAND
After breakfast drive to the outskirts of Bukhara to to the Summer residence of the former rulers of Bukhara emirate. Then drive to Samarkand. On the way we stop at a small town of Gijduvan to visit a workshop of a famous local ceramicist to see and learn about the production of unique pottery with centuries-old history and traditions and enjoy a home-cooked lunch in their house. Continue driving to Samarkand. Arrive in Samarkand. Hotel check-in. Dinner.
Overnight in Diyora 4*/Malika classic 3* or similar.
DAY 12. SAMARKAND
Breakfast at the hotel. Sightseeing of Samarkand: Gur-Emir Mausoleum, The Registan Square (Sandy Place) – the most visiting place of Samarkand, which consists of three magnificent monuments: Ulugbek Madrasah (XV c.), Sherdor Madrasah (XVII c.), Tilla-Kari Madrasah.Lunch. Continue sightseeing of Samarkand: The observatory of Ulugbek-the ruins of one of the wonders of Islamic science of the Middle ages, Architectural complex of Shakhi-Zinda (A living King),Mausoleum of St. Daniyar (Prophet Daniil)- equally revered by the followers of three religions (Christianity, Islam and Judaism) Dinner at national restaurant.
Overnight in Diyora 4*/Malika classic 3* or similar.
DAY 13. SAMARKAND-BORDER JARTEPPA – PENJEKENT CITY
Breakfast at the hotel. Drive to Jarteppa border. Cross the border. Drive to Penjikent. The city of Penjikent ("five villages") is located in Khujand area of Tajikistan in a picturesque Zeravshan river valley. Quite possibly the five villages started the history of this remarkable city which originated in the 5th-8th centuries AD. Penjikent of that time was one of the most important cultural and crafts centers of Sogd. It was even named "Central Asian Pompeii".
Sightseeing the city:
Museum of Rudaki – Penjikent being the birthplace of Abu Abdallah Rudaki, considered by many to be the father of Persian Poetry,this museum is devoted to the life and poetry of this famous person
Ancient Penjikent - ruins of old Sogdian town founded in 5th century and abandoned in th 8th century by arabs. Foundations of houses, a citadel with a couple of Zoroastrian fire temples and city bazaar are visible in the excavated ruins.
Sarazm settlement – 5500 years
Dinner in the national teahouse for dinner.
Overnight in the hotel Umariyon 3*.
DAY 14. Dushanbe – Iskandarkul lake - Dushanbe (270km)
Breakfast. Drive to Iskandarkul lake. You will see Fan Mountains – a popular tourism and mountain climbing area in Tajikistan. There are about 100 passes in height from 3200 to 5060 m (Mirali). The Fan Mountains are the highest part of Zeravshan range with 11 peaks above 5,000 m with sharp fantastical pointed forms. In the bosom of these mountains are about 30 lakes, the largest of which are Iskandarkul, and the most beautiful and picturesque, famous for the unique play of colors - Kulikalon. Iskandarkul lake: length - 5км, width - 3,5км and depth to - 80м, located at height 2250м. The heart of Fan mountains, the treasure of Tyan-Shan, a scenic Iskandarkul lake is one of the most beautiful lakes in Tajikistan. Having emerald green and blue color. A fast flouring Iskandar-darya river flows from the lake, forming a marvelous and gorgeous waterfall, so called the "Fan Niagara" that falls from the height 38 meters. Walking near the lake. See waterfall. Lunch. Walking near the lake. Drive to Dushanbe.
Dinner and overnight in the hotel Atlas 4*.
DAY 15. Dushanbe – Hissar village – Dushanbe (30+30km)
Breakfast. Sightseeing the Dushanbe city: Dushanbe is the capital and largest city of Tajikistan. Dushanbe means "Monday" in Tajik (Persian language), and the name reflects the fact that the city grew on the site of a village that originally was a popular Monday marketplace. Situated at the confluence of two rivers, Varzob and Kofarnihon. Navruz palace, Museum of antiquities – professional showcase of 20th centure Tajik art. The collection includes pottery, carpets, cloaks, embroidery, jeweler, musical instruments, woodwork as well as the wooden statue of Sleeping Budda or "Buddha in Nirvana". Monument Somoni and park Rudaki. Lunch in local restoran. Drive to Hissar fortress – the remains of an 18th century fortress, located 30 km west of Dushanbe. Beside the fortress are two plain madrassahs, one dating from the 18th century and the other 19th, and beyond them is the mausoleum of 16th century . Drive to Dushanbe. Dinner at local restaurant.
Overnight in hotel Atlas 4* or similar.
DAY 16.Dushanbe – Almaty-Bishkek (flight) (flight time suject to change)
Breakfast. Drive to the airport. Flight Almaty.Arrival to Almaty airport. 18.00.Board the flight to Bishkek. Arrival at Bishkek airport. Transfer to the city (25kms). Dinner. Overnight at hotel Hotel Plaza/similar (4*)
DAY 17. BISHKEK
After breakfast transfer to Ala Archa Gorge (40 kms south from city).Hiking,trekking.Transfer back to Bishkek. Lunch. Walking tour around Bishkek city which will take you to the biggest and capital city of Kyrgyzstan where every traveler will find something interesting: The Museum of History (if open) - one of the largest ethnographic collections in the world,The Museum of Fine Arts, The colorful Osh bazaar, White House, Monument of Revolution, The Victory Monument
Overnight at hotel Hotel Plaza/similar (4*)
DAY 18. BISHKEK - Cholponata
Breakfast at hotel. Transfer to Cholpon Ata town at Lake Issyk Kul (270km). Visit the Burana Tower . Lunch at restaurant.Visit the petroglyphs stone park.
Dinner and overnight at hotel Raduga or Kapriz/similar (4*)
DAY 19. ISSIKKUL – KARAKOL
Breakfast at hotel.Transfer to Karakol (170 km). On the way visit the Museum of Prejevalski. Sightseeing tour in Karakol: visit Dungan Mosque and Orthodox Church. Lunch at restaurant. Drive to the Jety-Oguz Gorge to the famous red rock formations (seven Bulls and Broken Heart). (Possible eagle show in Bokonbaevo). Dinner at Ughur family
Overnight at hotel Karagat/similar (4*)
DAY 20. KARAKOL – CHON KEMIN
Breakfast at the hotel. Transfer to Chon Kemin Nature park (340 km). Along the southern shore of the lake. Lunch on the way in the family (Possible eagle show in Bokonbaevo). Visiting on the way Kyzyl-Tuu village and look the process of yurt production. Dinner and overnight at the mountain guesthouse Ashuu
DAY 21. CHON KEMIN- ALMATY
Breakfast at the guesthouse. Walking excursion in the Chon Kemin gorge. Lunch in the guesthouse. Transfer to the Kyrgyz-Kazakh border of Korday. Border formalities. Drive to Almaty. Arrival to Almaty. Hotel check-in. Dinner at the restaurant
Overnight at hotel Otrar 4* or Grand Voyage 4
DAY 22. ALMATY
Breakfast at hotel. Sightseeing of Almaty. Visit the Public Square, Monument of Independence, Panfilov Park, Zenkov Cathedral. Lunch. Visit Medeo Ski resort. Back to Almaty
Overnight in hotel Otrar 4* or Grand Voyage 4
DAY 23. ALMATY - CHARYN CANYON - ALMATY
Breakfast at hotel. Transfer to Charyn Canyon (220 km one way). Lunch with lunch box. Dinner at restaurant
Overnight in hotel Otrar 4* or Grand Voyage 4*
DAY 24. ALMATY - ALMATY BIG LAKE - flight to other destination
Breakfast at the hotel. Transfer to the big Almaty Lake.Drive back to the city and visit Kok Tebe Hill. Lunch.Free time for leisure and shopping. City tour and to Arbat road for shopping
19.00 Dinner at restaurant 20.00 Transfer to airport
The price of tour:
For 1-2 pax pax 4000 USD per person
For group of 10 pax 3704 USD per person
The price in Uzbekistan includes:
Accommodation (9 nights, breakfast is included)
Transportation services (a car 1-2 pax: Chevrolet Lacetti/Cobalt) from arrival to departure including all transfers
English-speaking local guide, on city tour days only
Meals (B-L-D)
Entrance fees on abovementioned monuments
Train ticket BHK-SKD, Afrosiyob, economy
Airticket TAS-NCU, economy
LOI
Water (1 liter per day per person)
The price in Turkmenistan includes:
Visa support (Letter of Invitation, State Registration)
All transfers and all other overland transport as per program per AC vehicles as in the table under "itinerary"
Accommodation based on twin-shared hotel room, including breakfast as in the table under "accommodation"
Fixed meals (lunch and/or dinner) where indicated in table under "meals"
English-speaking local guide-interpreter services as mentioned in the table under "guide"
Entrance fees to sites mentioned in the table under "program"
Bottled drinking water en route 1,5l pppd
The price in Tadjikistan includes:
twin accommodation (Dushanbe – hotel Atlas 4* 2nigth, Panjakent – hotel Umariyon 3*, )
meals full board
transport (1-2pax Toyota RAV4)
guide
transfers
entry fees
Service of the company
The price in Kyrgyzstan/Kazakhstan includes:
Accommodations with breakfasts
English speaking guide
Meals on Full Board
Transfers by Toyota or Similar Car
Entrance fees
Mineral water without Gas
---